---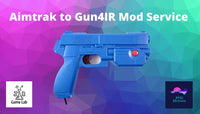 Send your original or recoil Aimtrak for conversion to Gun4IR.
Currently we only ship to US

Created with Gun4IR by JB
US SHIPPING INCLUDED IN ALL PRICES
This is ONLY guaranteed compatible with PC as a mouse. The emulator / game itself still needs configuration and needs to support light gun games! If youre not sure , please message us before purchase!
 Other systems MAY be compatible  but only pc can run the gui to configure and calibrate. Pi emulator setup is a pain and RPEG Electronics does NOT provide Roms, Images, or emulator setup support. Other systems like mac, linux, Atgames, pandoras box, etc.... may work, but we are not responsible for them. It takes alot of advanced experience with configs. 
Warranty on mod services and pre mods is 30 days from date of receipt. 
LEDS are powered by 5V USB ONLY! DO NOT USE ANYTHING BIGGER! (Sold Seperately)
LEDs must be placed on the back of your monitor, not responsible if your cabinet can't fit or remove the monitor . Extreme home arcades tends to have this issue.
Turn off all wii bars, dolphin bars, and aimtrak sensors. It will interefere!
Also turn off any active marquees when calibrating.
RPEG Electronics does NOT provide any instructions on Roms, Emulators, or setup. We only promise itll work as a very accurate mouse.
Setup is identical to aimtrak and there are many guides available on YouTube.
Return Priority shipping is included. US only.
Includes:
Converting your Aimtrak into Gun4IR

Standard Service Includes Mod with Rumble Motor Feedback and Fish Eye Lens (For non recoil Aimtraks only!)
Premium Recoil Service Includes Mod with Rumble Motor Feedback, Fish Eye Lens, Flex Sleeve Cable, Recoil Mod with Auto Fire. 12v 2A Power supply not included (For Recoil Aimtraks Only!) 
GUI License to change settings like button config and calibration
LED Sensors are sold separately !
The minimum playing distance is approximately  2x your monitor size. So if you have a 32 inch monitor youll need 64 inches of distance for the gun to see the led sensors.
 Larger screens can also be supported, please message me before purchase for extra large sized screens.
Includes the Gun4IR GUI License (Will be Emailed to you! Check your spam folder!)
* Due to the nature of the aimtraks original recoil, It has been known to overheat and stop after about 3 min of continuous fire. To counter this , my custom recoil circuit can adjust the timings of the recoil and I will adjust it to a safer point. However I do recommend using a 12v 2-4A power supply instead of a 36v. The recoil still feels great and overheating is less common, but still possible. This is simply due to the fact that the solenoid is not a 12 or 24v arcade quality one, but rather a 6V solenoid that is being overvoltage to get a bigger kick. So basically itll work but no guarantee on how long since its not my own solenoid. 
Completion time is 1-2 business days (Mon-Friday) after your Aimtrak is received. 
After purchasing, please send your Aimtrak to:
RPEG Electronics 
138-10 Franklin Ave Apt 14E
Flushing, NY 11355
646-705-4951
Please include a sheet of paper with your Name, Address, Email, and Cell when shipping your product to us.
 Prices are very subject to change due to high demand and amount of labor that goes into these.
Contact Ray at RPEG Electronics Directly! 
Email: RPEGElectronics@gmail.com
Text: 6467054951
Facebook: https://www.facebook.com/raymond.dai.5