---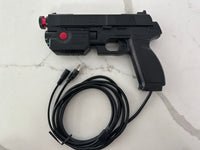 THIS IS A UPGRADE SERVICE FOR EXISTING CLIENTS ONLY ! You Must send us your existing Gun4IR Guncon1 for Upgrading.
Currently we only ship to US
Includes:
Recoil
Rumble
Clicky Trigger Upgrade
Fish Eye Lens Mod
Premium usb / power cable upgrade 
Shipping Back is FREE
The recommended minimum playing distance  is 2x your monitor size. So if you have a 32 inch monitor you'll need 64 inches of distance for the gun to see the led sensors.
Larger screens can also be supported, please message me before purchase for extra large sized screens.
 We recommend also purchasing our 12V power supply and High Powered LED Sensor set to go with this upgrade. 
Ships fast from NYC!
Completion time is 3-4 business days (Mon-Friday) after your Guncon1 is received. 
After purchasing, please send your guncon to:
RPEG Electronics
138-10 Franklin Ave Apt 14E
Flushing, NY 11355
646-705-4951
Please include a sheet of paper with your Name, Address, Email, and Cell when shipping your product to us.
Contact Ray at RPEG Electronics Directly! 
Email: RPEGElectronics@gmail.com
Text: 6467054951