---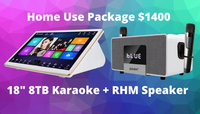 Ready To Sing lnandon KV-V5 Max 8TB Karaoke + White RHM Speaker Package
Taiwanese speaking and Hong Kong Cantonese only speaking customers please message me BEFORE purchase to make sure the system is suitable for your use due to pinyin typing requirements. Newer songs are mainly in simplified Chinese and do NOT have traditional versions. 
台湾和香港朋友请先联系我,卡拉OK机最好是用拼音点歌,新出的国语歌没有繁体歌曲。
Includes:
- Latest 2023 V5 Max System 18 inch 
- RHM White Speaker with Dual Wireless mics
WARNING: DO NOT USE THE RHM POWER SUPPLY ON THE KARAOKE, IT WILL IMMEDIATELY DESTROY THE MOTHERBOARD AND HARDDRIVE. THIS IS NOT COVERED UNDER WARRANTY

- Multi Language Menu System ( ENG, CHINESE, SPANISH, RUSSIAN, MALAY, VIETNAMESE, KOREAN)
- 18" LED Glass Touchscreen 
-HDMI Cable + AV Cables + 12V Power Supply
Why buy from us?
This is the ultimate professional home / commercial Karaoke system!
We speak English + Cantonese + Mandarin + Taiwanese + Chiu Chow! Support in multiple dialects.
我们说国语,粤语,台语,潮州话!
加微信可以免税!!
- Over 400,000 Songs available 
- Lifetime New Song updates thru built in Cloud Server. Song cloud auto updates every month. 
- Super high speed song downloads, 1-3 mbps (Varies by your network)
- HD Original Music videos, No ugly blue screens
- Supports up to 4K Movie Playback via USB Drive. Most MVs are 720p/1080p. (Varies on age of original MV. Very old songs will be in SD approx 360p-480p)  
- Original Singer Voices to sing along with
- Supports Mandarin, Taiwanese, Cantonese, English, Vietnamese, Japanese, Korean Songs! 
-There are many clones on amazon and eBay who copied our listing and are claiming to be the Pro but are really the PLUS model or V3 Model which are lower cost and slower CPU models without firmware updates.
- Multiple Youtube instructional videos available!
- Local tech support in English via e-mail or text.
- Please feel free to message or wechat with any questions at all!
Note: English songs made before 1980 is usually unavailable due to age. Since these music videos rarely exist, they can only be found on YouTube then added via usb.  See demo video below.
Direct Factory Shipping via DHL Express Approx 7-10 business day arrival time.
Local Pick Up in NYC also available! Message for details
PLEASE WATCH DEMO VIDEOS BEFORE PURCHASING!!
Contact Ray at RPEG Electronics Directly!
Email: RPEGElectronics@gmail.com
Facebook: 
https://www.facebook.com/raymond.dai.5
我们的网店-www.rpegelectronics.com