---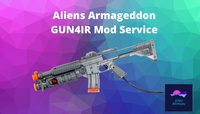 You MUST send a new Aliens Armageddon Rifle Assembly to be modded.
Purchase Here: https://www.betsonparts.com/amusement-redemption/raw-thrills-gun-assembly-3.html
Send to:
RPEG Electronics
138-10 Franklin Ave Apt 14E
Flushing, NY 11355
Turn around time is 1-2 business days
Includes: 
- Converting your Aliens Armageddon Rifle into Gun4IR
- LED Buttons and Back, Fish Eye Lens for closer game play, Flex Sleeve Cable, Recoil Mod with Auto Fire. 12v Power supply not included.
-GUI License to change settings like button config and calibration - Return Shipping is always FREE!
-Shipping is via UPS Ground which can take up to 10 Business Days
LED Sensors are sold separately here: https://rpegelectronics.com/products/high-powered-black-gun4ir-led-set
 MUST ONLY USE 12V ! 24V will cause issues!
This is the recommended power supply for 12V https://www.amazon.com/dp/B073QTNF9F?ref_=cm_sw_r_cp_ud_dp_RX2PNTWZE8AEY9THRQ43
A huge thank you to GUN4IRS Creator JayBee for taking precious time to create new pcbs and circuitry to make this possible! A portion of all upgrade sales goes directly to him for all hard work. Thank you for supporting a small business!