---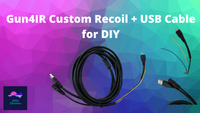 An RPEG Electronics Exclusive item!
US SHIPPING INCLUDED IN ALL PRICES
Custom molded cable for recoil GUN4IR builds.
Made with 22 gauge thicker copper wire for perfect signal and recoil power.
Micro USB header with protective shell , made perfect height for audrino when soldered to standard dupont pins. Can also be cut off and soldered to diy micro usb male headers if a slimmer head is needed.
10 feet length
Thick but light insulation to provide comfortable and durable game play.
Standard USB A male and universal 5.5 x 2.1mm DC connector for recoil power.
Simple color coded wiring.
Blue = Recoil Positive Power 
Yellow = Recoil Ground wire
THIS IS STRICTLY A DIY PART , THERE WILL BE NO GUIDES ON HOW TO USE THIS OR BUILD A GUN4IR!