---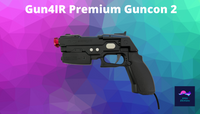 Ready to plug and play system made with a real vintage Namco GunCon 2 From Japan!

Includes:
The Guncon2
Rumble Motor
Optional 12v  Recoil 
Gun4IR Software and GUI License to change settings like button config and calibration (Check email and spam after purchase.)
Fish Eye Lens for closer game play
LED Sensors not included! Sold separately.
12v Power Supply not included! Sold separately.
Buy LED Sensors: Click Here
Buy 12V Power Supply: Click Here
More Buttons More Fun!
Guncon2 Features
-Trigger = Left Click
-Bottom Slapping Action = Esc
-Right Button = Middle Click Special Weapons
-Left Button = Reload
-Full Up, Down, Left Right D-Pad
-Start and Select Buttons Mapped to 1 and 5 for MAME support!
-Rumble + Optional 12v Recoil (12V Power Supply Required).
Great for playing games like time crisis 5 one handed!
No Modding or DIY work needed! Ready to play out of the box!
Due to the nature of these being modded original playstation Guncons from over 25 years ago, there may be minor cosmetic imperfections such as light scratches. Though we do try to source the best condition shells from Japan we can for you.
Contact Ray at RPEG Electronics Directly! 
Email: RPEGElectronics@gmail.com
Text: 6467054951
Facebook: https://www.facebook.com/raymond.dai.5
All ARCADE / GUN4IR products have a 90-day (from day marked delivered) warranty against defects. This warranty is ONLY valid within the US. Any product that is defective within reason will be repaired or replaced and shipped back to you in the United States ONLY. If you sent your product outside of the US, you will have to send it back, and we will send the replacement back to a US address only.
Warranty does NOT cover water damage, physical damage, incompetence and misuse, incorrect setup resulting in damage, or simply "I don't know how to use it reasons".
We do NOT ship outside of the United States, if you choose to send products to a mail forwarding service, the responsibility for import taxes, package being blocked by customs, and damages items is 100% on you. We do not offer refunds if your forwarding service refuses to send to your country.
Customers who wish to have their Gun4IR products preinstalled with our recommended arcade cabinet builders or PC builders in the US are welcome to have their order directly shipped to them for installation. The final arrival to the client will of course be the responsibility of the cabinet / PC builder. We are ONLY responsible for the product arriving safely at the shipping address used during checkout.
International clients are welcome to use shipment forwarding services or friends, however taxes, customs, import duties, restrictions are all the responsibility of the customer to research. We have absolutely NO control over what each countries customs will let in, tax, and or confiscate.
There are NO authorized GUN4IR direct sellers other than RPEG Electronics (US Market) and GUN4IR.com (EU market). 
Due to the nature of GUN4IR, many countries will not allow forwarding. If you choose to try and forward it with a third-party service or friend, it's at your own risk. Please follow the laws in your local area regarding shipping weapon shaped items. We will NOT refund you under any circumstances for any reason.